Canadian West Coast Voyages by Boutique Ship
Interests
Foodies, Fisherman, Wildlife Enthusiasts, Photographers, and Adventures welcome!
Self-discovery as part of the journey
There's something for everyone on each Remote West Coast Adventures Charter.
Reawaken your appreciation for life, connection, and adventure in whichever way that presents itself to you. Whether you are seeking a deeper understanding of wildlife, an exciting fishing catch, a beautiful sunset photo, or a meal shared with close family & friends, you will find it all on your unique voyage.
Wildlife
Canada's west coast is abundant with wildlife. From the small creatures residing within tidal pools to the powerful giants roaming the waters and land, there are plenty of exciting moments and encounters to enjoy.
Grizzly, brown and black bears
Humpback whales and orcas (killer whales)
Pacific white-sided dolphins and porpoises
Sea lions and harbour seals
Bald eagles, blue herons and osprey.
Culinary Experiences
Any visit to the West Coast is the chance to savour the fresh BC grown ingredients. Enjoy delicious meals prepared daily by our onboard chef, including fresh baked goods with coffee and tea. Meals are enjoyed family-style or can be served individually.
Local farm-fresh ingredients and baked goods
Selection of British Columbia's wines.
Additionally, many of the destinations we visit are home to renowned restaurants, farms and wineries that guests can visit for culinary tours and tasting experiences.
Photography
The West Coast is a photographer's paradise. Capture dramatic fjords, awe-inspiring landscapes, flowing waterfalls, tall mountain peaks, rare wildlife, ocean sunsets, and more on your voyage.
Wildlife and coastal scenery
Sunrises and sunsets
Waterfront village landscapes
The intricacies of the Union Jack.
First Nations Art and Culture
We acknowledge that our charters take place on the traditional territories of BC's Indigenous Peoples, and we ensure that we have the appropriate permissions to tour the significant cultural sites we visit.
As one of four operating principles, we are committed to the sharing of BC's cultures. As a result, each guest will have the opportunity to learn about local First Nation cultures and histories.
Fishing
BC has long earned a reputation for its amazing fishing opportunities. Onboard we have fishing rods, crab and prawn traps for those who want to hook an exciting catch, along with crab and prawn traps. Some of the fish that can be caught include:
Pacific salmon: Chinook, Pink, Sockeye, Coho, and Chum
Halibut
Other saltwater fish: lingcod and rockfish.
For those who seeking an all-day fishing adventure, we can also arrange a professional fishing charter to take your group out for a specialized trip.
Time to Play
Have fun with our kayaks, standup paddleboards, and water bouncer – for the young and young at heart.
Featured Destination of 2022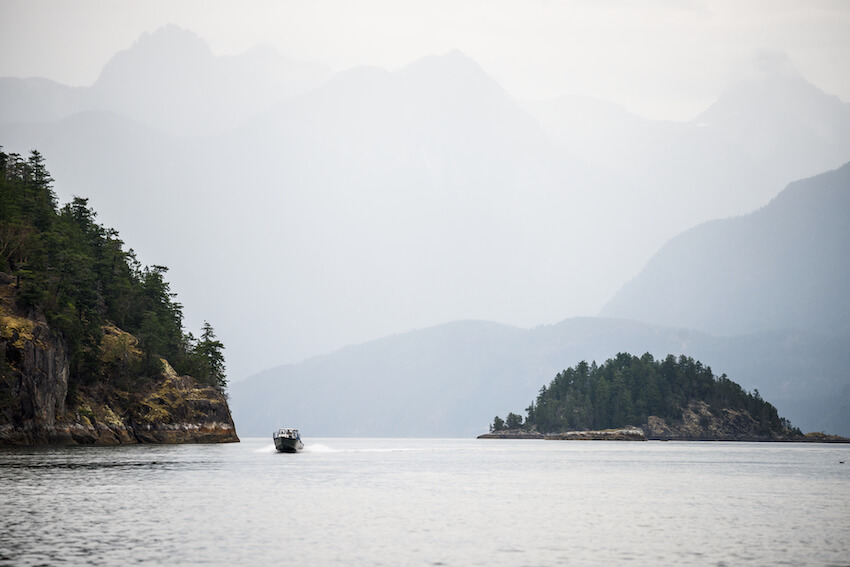 Desolation Sound
Surrounded by islands with idyllic coves and inlets, Desolation Sound is a forested paradise for boating enthusiasts to immerse themselves in.