Canadian West Coast Voyages by Boutique Ship
COVID-19 Best Practices
Safety aboard the Union Jack
Social Distancing, Sanitation, and Passenger Safety
The safety and well-being of our passengers, crew, and local communities is a top priority for Remote West Coast Adventures. As we head into our new normal, we have implemented various procedures to ensure that we offer safe charters that follow all provincial and federal health guidelines. If you have any questions or would like more information about our COVID-19 best practices, please contact us.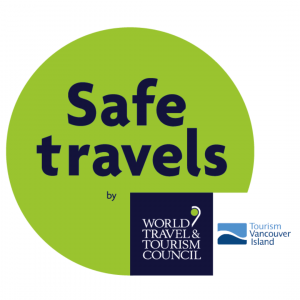 Remote West Coast Adventures has received the World Travel & Tourism Council's Safe Travel Stamp from Tourism Vancouver Island. This stamp recognizes that RWCA has adopted SafeTravel global health and hygiene standardized protocols.
What we ask from our guests
As COVID-19 continues to affect both large and small communities, there are certain values and rules that we are asking our guests to uphold while on charter with us. The main rules are listed on the right.
Any disregard for these rules may result in an early end to the charter/tour or a change in itinerary as determined by the crew.
Rules
Masks must be worn by all guests when visiting any communities
Guests must submit to all COVID-19 symptom screenings as directed by the crew
No persons whose names are not on the official passenger list will be allowed on board
Social distancing, sanitation and respect for others are to be adhered to at all times.
Screening Process
Offering either private charters for 8 (and maybe 10) passengers, or shared tours up to 10 passengers, guests are able to travel within their exclusive social bubbles/in small groups.
All guests are screened before the start of their charter and are required to sign agreements stating they have not experienced any COVID-19 symptoms, travelled internationally, or have been in contact with an individual that has a confirmed case of COVID-19 within the last 14 days.
Activities
During your trip, our focus will be on activities that allow you to social distance from other travellers and residences of the destinations we visit. These include:
Kayaking in isolated bays
Fishing for pacific salmon on our private tender
Sampling local cuisine and drinks prepared by our onboard chef
Hiking remote trails
Picnics on spacious beaches
Communities
Remote West Coast Adventures recognizes that each community in British Columbia has the right to determine whether they want to or are able to accommodate visitors during the pandemic.
As a result, at this time we have decided to only visit communities that are welcoming non-essential travellers. For more information on which communities you can visit at the time of your charter, please contact us.
The Ship
The Union Jack will be thoroughly cleaned and sanitized between each trip.
High-touch surfaces such as railings, door handles, tables etc. will be cleaned multiple times throughout the day.